OS / Software Installation / Re-installation / Upgrades / Updates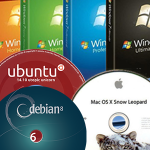 Installing hardware, software and keeping up with upgrades can be tricky especially in production environment.
If something goes wrong with your software at home after applying an upgrade or update, you can live with it. Can your business?
If your software needs an update to keep up with speeding world of technology, but a crucial piece of software you need to run your business you are not sure about, just let us know. We can deploy a test-environment and simulate the outcome of an update or upgrade, so then we can prepare the path to proceed in you live production environment.
Our engineers will make sure the whole procedure has been done correctly and the setup is ready to use.
Even if you have some IT expertise, you will probably need outside help for such things as Hardware and Software installations, re-installations, drivers installation and updates.
We specialize in servicing all aspects of IT installations and provide cost effective installation solutions for just any size of project.