Network Storage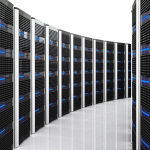 [metaslider id=1992]
Network Attached Storage (NAS)
Network Attached Storage (NAS) devices are storage arrays or gateways that support file-based storage protocols such as NFS and CiFS, and are typically connected via an IP network. These file-based protocols provide clients shared access to storage resources. This centralization of shared storage resources reduces management complexity, minimizes stranded disk capacity, improves storage utilization rates and eliminates file server sprawl.
Storage Area Network (SAN)
A Storage area network, or SAN, is a high-speed network of storage devices that also connects those storage devices with servers. It provides block-level storage that can be accessed by the applications running on any networked servers. SAN storage devices can include tape libraries, and, more commonly, disk-based devices, like RAID hardware.
NAS vs SAN
The primary difference between NAS and SAN solutions is the type of access protocol. NAS protocols such as NFS and CiFS provide shared file level access to storage resources. The management of the file system resides with the NAS device. SAN protocols such as iSCSI and fibre channel provide block level access to storage resources. Block level devices are accessed by servers via the SAN, and the servers manage the file system.
Despite their differences, SAN and NAS are not mutually exclusive, and may be combined in multi-protocol or unified storage arrays, offering both file-level protocols (NAS) and block-level protocols (SAN) from the same system. The best of both worlds!
Benefits of NAS
NAS devices typically leverage existing IP networks for connectivity, enabling companies to reduce the price of entry for access to shared storage.
The RAID and clustering capabilities inherent to modern enterprise NAS devices offer greatly improved availability when compared with traditional direct attached storage.
Because NAS devices control the file system, they offer increased flexibility when using advanced storage functionality such as snapshots.
With 10GE connectivity, NAS devices can offer performance on par with many currently installed fibre channel SANs
Key NAS Uses
Traditional use cases for NAS devices include file shares, home directories and centralized logging. Recently, as the performance and availability of NAS devices has improved, many customers are expanding the use of NAS to include storage for relational databases such as Oracle and MySQL, server virtualization environments such as VMWare VSphere, and virtual desktop solutions such as VMWare VDI.
SAN Vs. DAS Performance
Organizations often choose to deploy SANs because they offer better flexibility, availability and performance than direct-attached storage (DAS). Because a SAN removes storage from the servers and consolidates it in a place where it can be accessed by any application, it tends to improve storage utilization. Those utilization improvements often allow organizations to defer purchases of additional storage hardware, which saves money and requires less space in the data center.
Synology, QNap, QSAN, cTera, Thecus, Drobo