Water Cooling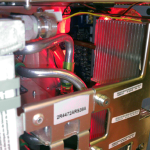 We design and build high performance water cooling systems.

In broad range of our services one can find custom build water cooling.
There is some confusion on the internet and rumors spread that water cooling is dangerous for the PC.
This is simply just not true!
In fact, water cooling could be dangerous as pretty much anything else in this world, as long as cheap components are used and assembled by unexperienced person.
The first ever computers were water-cooled. And it happened for a long time until technology evolved enough to make microchips.
Hardware manufacturer used this fact not only to start making massively personal computer, but to cut the costs and cut the size of the devices themselves they decided to apply cheaper and yet more dangerous for the chip itself passive cooling and then after air cooling.
Yes, passive and air cooling are not as efficient as water cooling so in case of dramatic spike in CPU temperature heat sink or fan may be just not enough to dispense heat from the CPU in time. Water cooled system in such case will absorb much more heat from CPU than heat sink alone or heat sink with air therefore the CPU will give away the heat easily and safely.
We've got excellent experience in build water cooling for home users and for businesses.